sat01apr20:30"soho meets SpicyMatch - spring love"20:30 soho LifestyleClub & Rooms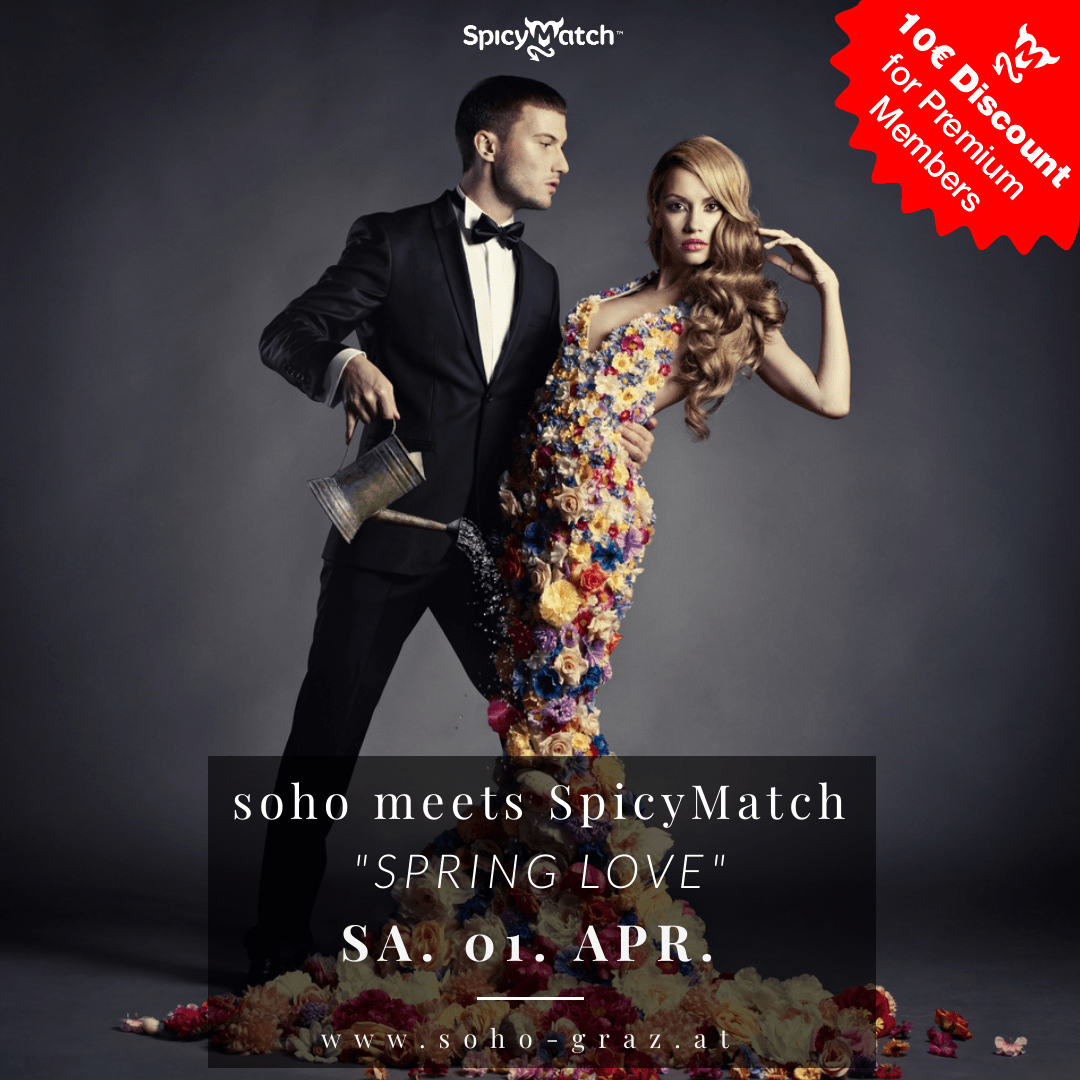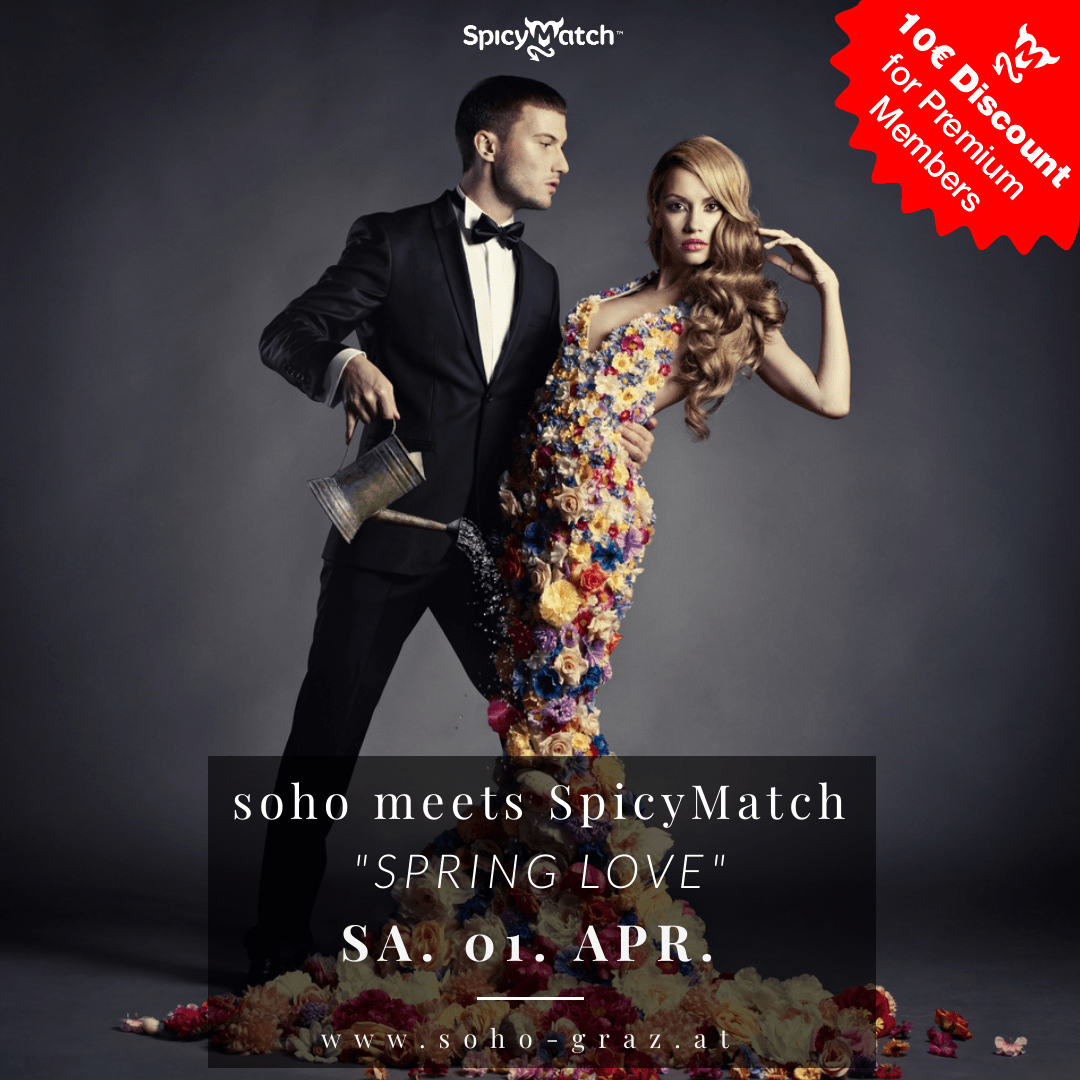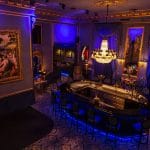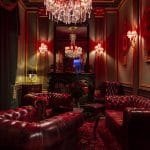 Event Details

Lively and colourful - are you ready for an evening full of spring feelings?

Like an enchanting blossom that slowly opens, the desire and passion within you awakens and brings out your most ardent desires. The delicate scents of the sprouting buds entice you to contemplative lovemaking. An event for couples and single ladies who can't resist the wonderful breath of spring!

As a small highlight, there will be an award ceremony for the "three most spring-like couples" on this evening. The winners can look forward to a special gift from SpicyMatch.

We are looking forward to a sea of colours - please note the dresscode.

SpicyMatch will give one lucky couple from the guest list of this event the most coveted vacation - SpicyIsland 2023 worth € 1.499,- absolutely FREE!

Yes, that's right - you can participate in this unprecedented vacation for FREE! The drawing will take place at midnight where the winner will receive the prize.

PLEASE NOTE: in order to be entered into this fantastic drawing, you must be registered on SpicyMatch and be on the guest list for the event.

If you don't have a profile yet, you can sign up easily & for free here: https://www.spicymatch.com/signup/

(Couples who already have a confirmed reservation for SpicyIsland 2023 are not eligible for the raffle).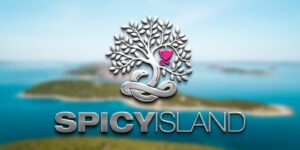 soho: our guests can expect fine culinary delicacies, first-class drinks and different design rooms (playgrounds) with high-quality furnishings.
sound: international sound of soho
society: Admission from 20:30 to 21:30 for couples and single ladies only. The number of guests is limited and we ask for prior registration.
Dresscode: In keeping with the motto "Spring Love", we are looking forward to a sea of colour.
Our female guests will enchant us in exciting colourful dresses, skirts with sexy tops and of course we would like to set no limits to your fantasies and, as always, it may be more frivolous/erotic, i.e. only lingerie.
The men appear in long trousers with shirts and matching shoes and of course the same applies here - colourful - be creative and surprise us with your elegant-casual spring outfits.
Jeans trousers, short-sleeved shirts and trainers are an absolute no-go, even in spring!
Included in the ticket price:
Admission to the event
Finest selected drinks at the bar (excluding champagne, bottled spirits & our selection of fine bottled wines)
All delicacies from our exquisite finger food buffet (also vegetarian/vegan)
use of all premises
In-house, non-visible parking spaces
All-In Package:
Our optionally bookable ALL-IN package for € 119,- includes an overnight stay (double room) in the new AMEDIA Express Airport Hotel (only 1 minute by car from the soho) including the following services:
Hotel check-in from 14:00
Outdoor parking (underground parking available on request)
Shuttle service from the hotel to the soho and back  (trips to the soho from 20:30-21:00 & return trips to the hotel at 01:00 / 02:00 as well as 03:00 possible)
Rich breakfast buffet (from 07:00-10:30)
Late check-out until 13:00
We take care of booking and handling. Additional costs are to be paid directly at the hotel.
CANCELLATION CONDITIONS: As life goes, something can always come up. If it is not possible for you to come to the event you have already booked, please let us know early enough (at least 1 week before the event). If you have already paid for your reservation by credit card, we will refund the costs (minus a processing fee of € 10,-) up to 1 week before the event. ATTENTION: for external events, the cancellation conditions of the respective organiser apply.
Location

soho LifestyleClub & Rooms
OUR PRICES
As a couple without SSC / JoyClub Premium: Eur 169,- | As a couple with SSC / JoyClub Premium: Eur 159,-
Solo lady without SSC / JoyClub Premium: Eur 84,- | Solo lady with SSC / JoyCLub Premium: Eur 74,-
*SSC = soho society Card